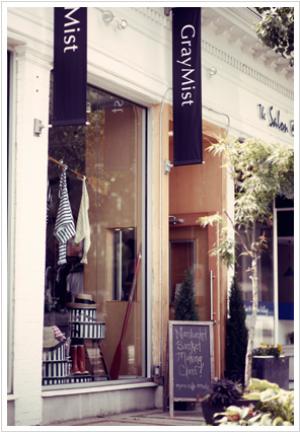 Our Shop
GrayMist Studio & Shop is a boutique-style Nantucket Basket studio and retail gift shop. Our store began with a selection of gifts that were inspired by the New England Island, and has since flourished to incorporate items from all around the world. As you step into our well-lit store, you are welcomed by smiling faces and an inspiring array of artistic gifts. Almost every piece we carry is hand-picked by our founder, Etsuko Yashiro, for its superior craftsmanship, artistry and functionality. We offer a wide selection of New England "island-themed" gifts, as well as an array of other products, each chosen to be fun, thoughtful, enriching, responsible (fair trade), clever, and warm.
Our Studio offers classes in weaving Nantucket Baskets and other selected crafts. We also sell Nantucket baskets, basket making tools, supplies and materials. All of our Nantucket baskets are hand-chosen for their fine detail and quality craftsmanship, and are woven and crafted by established Nantucket basket makers and scrimshanders. Most of our baskets are of a higher level of craftsmanship and design than what you would typically find —many are 'Museum Quality' Nantucket baskets. Our basket making materials (including molds, bases, lids, handles, etc.) are crafted locally in Massachusetts from high quality woods. We also offer a selection of carvings and scrimshaws made from cow bone, tagua nut and ivory —all of the ivory in our store is certified prehistoric fossilized mammoth ivory or recycled antiqueivory.
For more information, check out our Staff Blog, like us on our Facebook Page, and follow us on instagram.