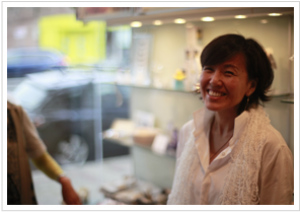 Meet Etsuko
At the heart of GrayMist Studio & shop and all of our events, gifts and Nantucket baskets is Etsuko Yashiro. Etsuko personally travels to special locations the world over and chooses every special gift in our shop - often one or two items at a time. As the head instructor of the Nantucket Basket making classes at GrayMist, she brings with her a high artistry shared by few Nantucket basket makers anywhere. Pair her vibrant history of high seas adventure from the shores of Nantucket Island and Tokyo, Japan with one-of-a-kind specialized training from the renowned Nantucket Basket making master himself, Alan S.W. Reed and there is an unseen intensity behind her simple approach. Born and raised in Tokyo, Etsuko has since moved to Boston, and has lived in the Greater Boston Area since 1994. Her baskets are displayed annually at the Nantucket Basket Museum in Nantucket. She has published a book about the craft in Japan and has organized many Nantucket Basket exhibits in Japan. Etsuko shares her love and passion for the craft with many students and instructors in the US and Japan.

Nantucket Basket Making Classes
We offer Nantucket Basket Making classes in our studio. Enjoy making your own baskets! They also make great gifts.

Charitable Outreach Programs
If you haven't heard about Tewassa and our ongoing events to make a difference in the US and Japan ...