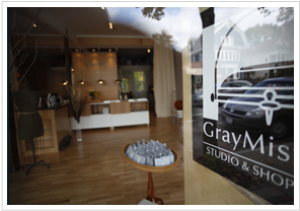 About Us
GrayMist Studio & Shop, is a Nantucket Basket weaving studio & gift shop, located in the quiet neighborhood of Huron Village.
Step into our shop and you may see students sitting at the large wood table weaving their baskets in one of our morning classes. We offer classes, Mon-Friday, 10am-12pm and every other Saturday. Next to our shop is the Annex, a beautifully organized wall of basket materials that students and walk-ins can purchase for their current or future basket projects.
Walk back into the shop and slowly take in a curated shop filled with unique products that reflect the distinct taste & lifestyle of our owner and master basket weaver, Etsuko Yashiro. Jewelry, textiles, stationery, and home accessories round out a collection of handmade products by individual artists.

Nantucket Basket Making Classes
We offer Nantucket Basket Making classes in our studio. Enjoy making your own baskets! They also make great gifts.

Charitable Outreach Programs
If you haven't heard about Tewassa and our ongoing events to make a difference in the US and Japan ...