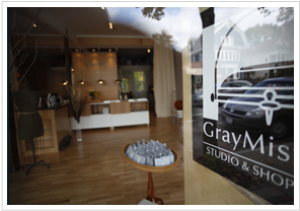 About Us
Set against the exquisitely cultured backdrop of Cambridge, Massachusetts and the storybook village of Huron Ave, GrayMist invites the curiosity of area shoppers from far and wide. Giving new meaning to "well-crafted" gift, each item in the shop is imbued with the distinct tastes, styles and enriching experiences of the shop's owner, Etsuko Yashiro. She is both the store's founder and a Master Nantucket Basket Maker. A visit to the shop invites you to stop for a moment and reflect on those special items we've savored for years – and how just by holding them, your memories and stories flood into your hearts and minds.
Much like a favorite song or the salty sea air – GrayMist just takes you somewhere – and we invite you to visit and join us in becoming a part of our story.

Nantucket Basket Making Classes
We offer Nantucket Basket Making classes in our studio. Enjoy making your own baskets! They also make great gifts.

Charitable Outreach Programs
If you haven't heard about Tewassa and our ongoing events to make a difference in the US and Japan ...